"Since arriving in Van, I've been on the lookout for my Cheers because nothing beats a little hole in the wall where you can get to know the staff and the other regulars, and I've found it. Upon leaving, the bartender approached me and told me I was going to be a regular there. It was nice to really feel welcome there.
They've got a really interesting selection of beer... It's got a really intimate setting. It draws a great crowd... everyone's always really friendly and just there to have a good time.
I love love love this place!"
-Kate, Vancouver
"The glasses are always chilled and you'll get your drink real quick. The music is also diverse and excellent.
The Fringe is the tops in Kits"
-Carl, Vancouver
"My friends love this bar and the staff, and I would have to agree with them. This no-frills bar has really nice staff that won't BS you with expensive drink recommendations, they just keep it real."
-Dani, San Fransisco
"What can I say?  It's my new local!  The place has just-the-right everything: just the right lighting, music, and staff.  The beer is cheap and good, the staff is friendly and attentive, and the atmosphere has character and energy.  Tom the bartender is a master at his craft.  If you're in the area, you should definitely go."
Louis, Vancouver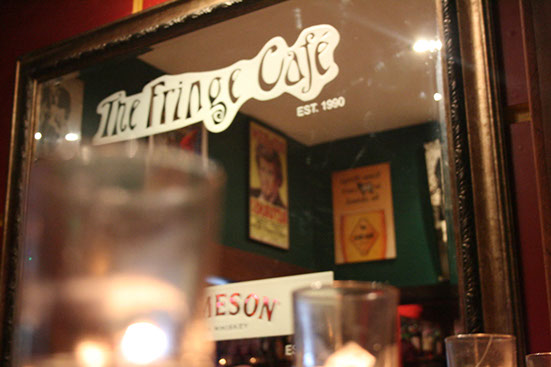 "This cave of a bar is the kind of place where your comfort grows. And as it does, so do the frequency of your visits."
Chloe, Vancouver
"Pretty much the ideal bar: small but not cramped, awesome beer, cool music. The food is shockingly good given the size of their kitchen! Overall a kickass place to hang out."
Kieran, Vancouver